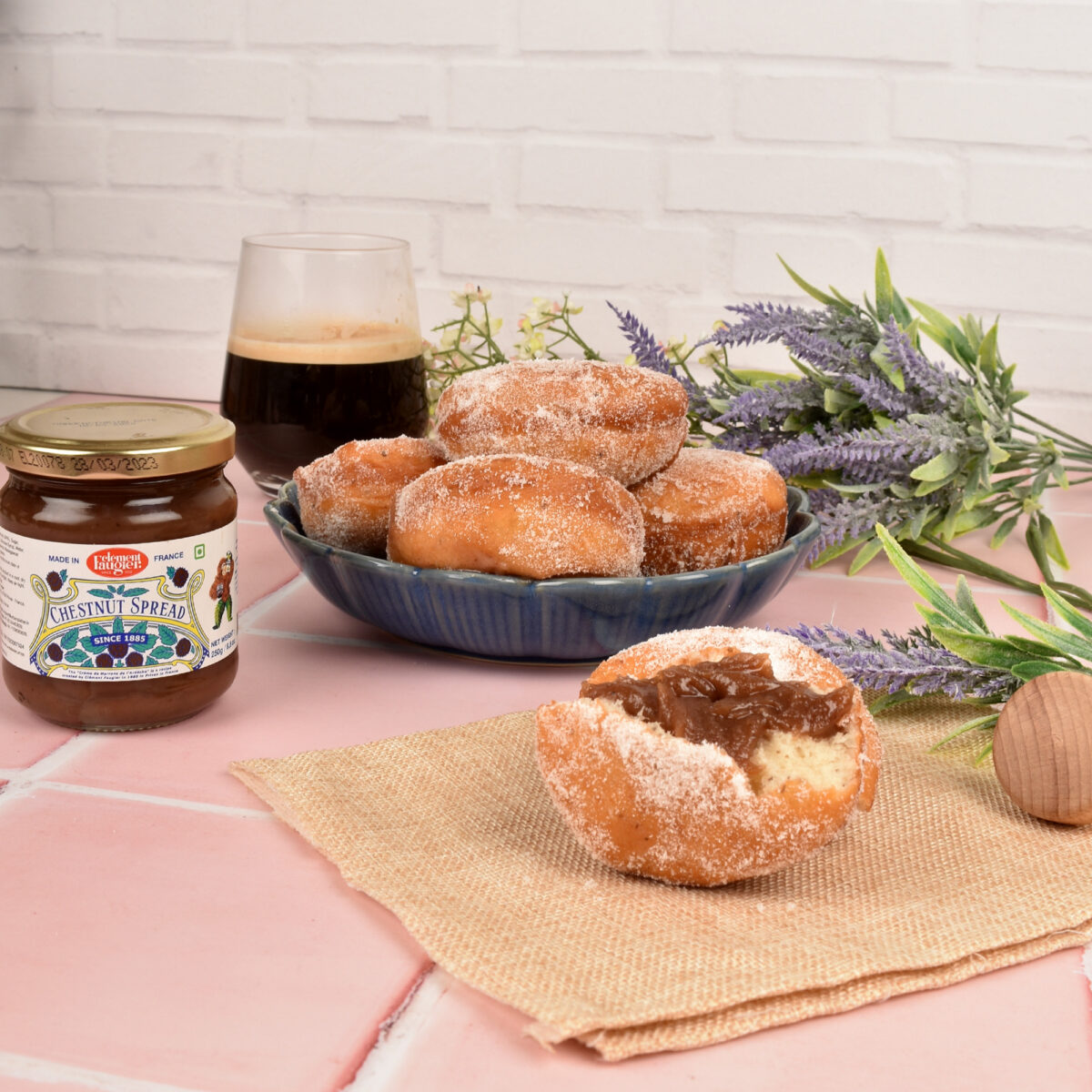 Print Recipe
Pin Recipe
Rate Recipe
French Style Chestnut Donuts
Deep Fried goodness at its finest! Paired with our beautifully creamy Clement Faugier Chestnut Spread, these donuts are really to die for!
Instructions
In a small bowl, add the active dry yeast, sugar, and water and dissolve well.

Place this bowl in a warm and temperate place and let the yeast activate completely.

In a large bowl, add the flour and salt and mix well to combine.

Add the coconut milk , coconut oil, ground chia seeds, aquafaba, and the yeast mixture.

Using your hands, combine all of these ingredients into a dough.

Transfer the dough to a flat surface and continue kneading for 8 to 10 minutes.

Transfer the dough to a bowl and cover with a soft cloth.

Keep this bowl in a warm and temperate place for the dough to ferment, about 1 to 2 hours.

Once the dough has doubled in size, we are ready to form our donuts.

On a lightly floured flat surface, place the dough and using a rolling pin very gently flatten the dough into a rectangle shape with a thickness of 1-inch.

Using a donut cutter, cut out the donut shapes from the dough and transfer them to a tray lined with baking paper. Save all of the dough scraps as they can be used as testers before frying the donuts and will also taste delicious!

Cover the cut out donuts with a soft cloth again and set the tray in a warm and temperate place for further fermentation, about 30 minutes.

As the dough is fermenting you, can start to heat up the oil. Using a thermometer, make sure that the oil is at 180°C.

If you do not have a thermometer, use one of the dough scraps and fry them off. If you do not see bubbles in the oil right away, your oil is not hot enough. If the dough turns brown immediately, your oil is too hot.

Once the donuts have fully fermented, it is time to fry them!

One by one, lift the cut donuts from the baking sheet and start frying them. The donuts won't need more than 1 minutes on each side.

Repeat this process with all the donuts.

Once all of the donuts have been fried, pour the caster sugar onto the plate and roll the dough in the sugar.

Spread loads of Clement Faugier Chestnut Spread over the donuts and enjoy with a warm cup of coffee!
Nutrition
Serving:
80
g
|
Calories:
219
kcal
|
Carbohydrates:
30
g
|
Protein:
4
g
|
Fat:
9
g
|
Saturated Fat:
7
g
|
Polyunsaturated Fat:
1
g
|
Monounsaturated Fat:
1
g
|
Trans Fat:
1
g
|
Sodium:
4
mg
|
Potassium:
67
mg
|
Fiber:
1
g
|
Sugar:
7
g
|
Vitamin A:
1
IU
|
Vitamin C:
1
mg
|
Calcium:
18
mg
|
Iron:
1
mg
₹600.00 ₹99 (incl. of tax)