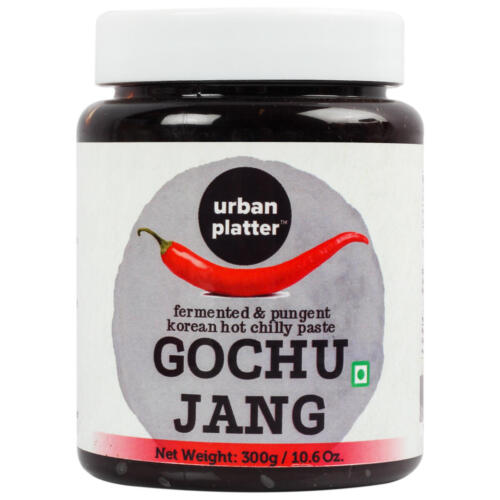 Urban Platter Gochujang or red chili paste is a savory, sweet, and spicy fermented condiment made from gochutgaru (red chili powder),rice, corn syrup, purified water, garlic, onion and salt. The sweetness comes from the starch of cooked rice, cultured with saccharifying enzymes during the fermentation process. It is a unique, thick paste used exclusively in Korean cuisine to boost the flavor of meat, vegetables, and soups.
Health Benefits
Contains plenty of proteins essential for building lean muscle mass
Presence of Capsaicin increases the metabolism and fat burning processes.
Relieves stress and cleanses body
How to use/ Directions
Gochujang is used in salads, stews, soups and marinated meat dishes. Gochujang makes dishes sweet and spicy.
Brush over corn fresh off the grill. Or even better, mix together equal amounts of gochujang and softened butter then use it
Mix several tablespoons of gochujang into whatever ground meat (or blend of meats) you use for burgers, meatballs and meatloaf.
Mobile apps, Currently in Beta
Motivate us with kind words