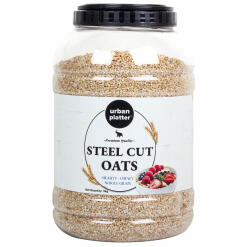 Out of stock
Available on Amazon
---
OATS -Oh-so healthy, Amazing, Tasty, Super-food it is!
Premium Quality Steel Cut Oats Online
Call this humble little grain by any name- "Irish" or "Scottish" or "Coarse" or "Pinheaded Oats", it would still remain the most commonly eaten breakfast food all over the world. Steel-cut Oats have gained their glory as one of the "healthiest super-foods" and can be further broken down or processed into a variety of forms like instant oats, rolled oats, oat flakes and oat flour.
Steel-cut oats are made from the Oat groats that are de-hulled oat kernels; very minimally processed they strike quite a similarity with the original Oat grain. The oat groats are simply cut into coarse pinhead size pieces using steel blades and hence the name Steel-Cut Oats. Compared to its other processed counterparts steel-cut oats are coarser and have a chewy texture and a nutty flavour. Its raw nature and coarse texture increase its cooking time however soaking beforehand can help save cooking time. One advantage of its coarse texture is that it retains its size and does not turn any recipe mushy or soggy. The reason why it is the most preferred variety of oats for culinary expeditions! Oats are healthy, versatile and blend easily with any ingredient, which has allowed cooking enthusiasts to sharpen their culinary skills much beyond the boring breakfast porridge, look how…
Beyond Breakfast– Consume Oats as the classic old breakfast porridge, using milk or yoghurt topped with fruits, nuts, seeds etc. Think beyond boring breakfast with smoothies and granola like Breakfast Granola Clusters.
Scrumptious Snack– Take the culinary expedition one step ahead with savoury dishes like veg Oats khichdi, Nutritious Oats upma. Add a good dose of fibre to regular poha, idlis, dosas, dhokla and many more Indian delicacies like Classic Jeeravan Poha. Soak it simply in warm water and add to regular dishes.
Blend and Bake– Lightly roast and powder the Oats to make the Oats flour and use it to bake bread, muffins, Maple and Oat Breakfast Cookies or cakes. Oats blend well with other flours to make rotis, parathas, chilas, pancakes, waffles etc. Use it as a thickening or blending agent in batters, tikkis, rolls, chaap, barfi, sheera etc. Lightly toasted and cooked Steel-cut Oats can be a great ingredient for baked post-workout protein bars like 5-in-1 seed and strawberry Granola Bar or fun Oat and Chocolate tart for kids.
Not just its culinary uses but also its nutritional profile roars for its super-food image, here's how…
It makes an amazing weight watcher's go-to meal as its high soluble fibre content keeps you full for a longer time. Best breakfast option to keep your sugar spikes and high cholesterol under control.
Low in calories, fat and carbohydrates they make a satiating and wholesome weight-loss snack when combined with fruits or vegetables.
Polyphenols found in oats foster the growth of good bacteria in the gut thereby regulating gut health. It can be a hassle-free, healthy supper.
Rich in minerals like iron and energy-boosting B-vitamins help fuel the body and give a healthy kick-start to your day.
Protein stimulates muscle and collagen formation whereas biotin supports healthy hair, skin and nails.
Its high micronutrient profile helps boost immunity and its regular consumption keeps the diseases at bay.
An excellent choice for people suffering from high blood pressure, diabetes, obesity as well as a nourishing food for kids, pregnant and the elderly.
Oat plants are naturally gluten-free, hence suitable for those with gluten intolerance. However, processing may sometimes add gluten and hence one needs to be aware and read the label while picking the oats from the market. So when we opt for the best in the market, Urban Platter Broken Oats (Natural Steel-cut Oats) stands at the top Dairy-free, Natural, gluten-free with no added sugars or preservatives and 0% cholesterol, this product is made with all the natural ingredients from nature. Available in different quantities- 1 kg steel-cut oats pack and 3 kg jar, it can stay well up to 9 months if kept in a cool, dry and clean place.
So what are you waiting for? Log into Urban Platter website and order healthy, vegan, Urban Platter Broken
Over to Urban platter's Oats Oomph!!!